INFO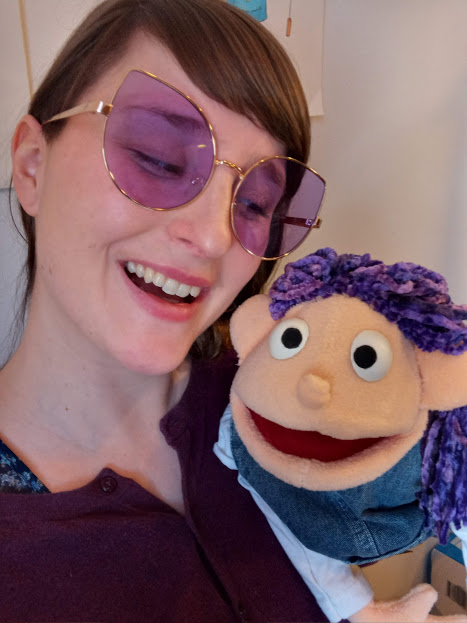 Joy Meikle invites you to spend time with her on Zoom for Meeting for Feelings, a safe space for young Friends to learn about and understand their emotions with the help of Aura, a Quaker kid puppet designed and created by Joy.
Friday mornings at 10am
Children and families will see themselves reflected in Aura's experiences and will be introduced to a variety of social-emotional learning techniques that can be used at home.
At Meeting for Feelings, we will explore an emotion of the day and practice some simple and effective tools and strategies to support the social-emotional needs of young Friends as they navigate the turbulent emotional terrain we find ourselves in, including deep belly breathing, intentional movement, and of course, silent worship. We will also explore Quaker themes such as the light within, connection with the Earth, and the transforming power of love. Joy will incorporate singing, dancing, and simple art projects to ensure that Meeting for Feelings is as interactive as possible.
Joy and her puppet buddy, Aura, look forward to experiencing connection, peace, and fun with fellow members of their Quaker community!
This offering is designed for ages 3-5yrs old, but all ages are welcome.
Meeting for Feelings will take place weekly on Zoom. Joy expects each Meeting to last 30-45 minutes.
BIO
Joy was raised in New York Yearly Meeting. She attended Wilton Monthly Meeting throughout her childhood, and is an alum of Connecticut Friends School. As a highly sensitive and intuitive person, she feels led to help young Friends navigate the inner world of their emotions. She has worked as a Social Emotional Support Coordinator in K-5 and an Assistant Teacher at a Quaker preschool. In college, she supported herself, in part, by performing as a puppeteer for babies and toddlers. She is passionate about creating a more sane and just world for future generations.