SPARK
15 Rutherford Place
New York, NY 10003
New York Yearly Meeting News
Volume 43
Number 4
The Religious Society of Friends (Quakers)
September 2012

Editor, Steven Davison

Guest editor, Paul van Linden-Tol
---
Contents
---
Introduction to the Quakers and Science Issue
This issue of Spark is dedicated to "Quakers and Science." We received so many responses to this theme that we have had to publish two of them on the website because we lacked the room in Spark. Our thanks to all our authors! We have articles that look at Quaker scientists, Quaker attitudes toward science historically, and some personal reflections on the relationship between Friends and science. We also include some resources on our theme and an annotated list of some Quaker scientists throughout history. We hope you enjoy the issue.
---
~ Quakers and Science Features ~
Quaker Testimonies an Scientific Practice
Joe Levinger, Albany Meeting
We prepared for our Quaker Quest program in Albany Friends Meeting by reviewing our Quaker testimonies. I was struck by how well these testimonies agreed with scientific practice. We share the goal of learning the truth—note our full name, "Religious Society of the Friends of Truth." But Quakers and scientists usually ask different questions in our similar searches for the truth.
Scientific practice corresponds to our Quaker testimony on Simplicity in using "Occam's razor" to decide among different explanations. Occam said we should discard unnecessary hypotheses. Scientists believe the simplest explanation of observations is the best, and closest to the truth.
Scientific practice also embraces our Quaker testimony of Integrity. A scientist must tell the truth as well as he/she can. Scientists may make mistakes, but scientists are not allowed to lie about their observations or their calculations.
Scientific practice agrees well with our Quaker testimony of Community. We discuss our experimental and theoretical work with other scientists in our community. This discussion plays a vital role in our search for scientific truth. (Sometimes a scientific discussion closely resembles a Quaker Clearness Committee.)
Scientific practice also agrees with our Quaker testimony on Equality in the way that all scientists enjoy equal status in our common search for truth. One of many examples: an unknown young Indian physicist, Bose, wrote to the famous Einstein, who studied and agreed with Bose's work. Together they developed Bose-Einstein statistics.
But we find serious disagreement on our Quaker Peace Testimony. Scientists frequently develop more and still more terrible instruments of war. I did this in 1941–1944 as a Junior Physicist in the Manhattan project to develop atomic weapons. Centuries earlier Galileo explained the motion of projectiles and in his wonderful book Two New Sciences, he provided a table to improve the use of artillery to destroy enemy cities.
Why do Quakers and some scientists disagree on this testimony? We ask different questions. Quakers ask, "How can we find ways to see that of God in each person?" Scientists often ask, "How can we find more efficient ways of killing people?" Science should be a helpful servant; we cannot allow it to be a harsh master. Scientists must stop learning how to make better swords and instead learn how to beat our swords into plowshares. We must use the powerful techniques of science to answer the old question, "How can we find peaceful solutions to conflict?"
---
Dr. Henry Fox, Entomologist
Patricia Kenschaft, Montclair Meeting
r. Henry Fox (1875-1951) was a Quaker scientist. As a child, I adored him; he was very kind. My Congregationalist parents pointed out the meeting house that he attended (Seaville Meeting, NJ), and spoke of him with the highest regard as an example of what fine people Quakers were.
He had been a research entomologist (one who studies insects), and his reverence for life extended to the insects that he studied. My one childhood internal complaint was that mosquitoes enjoyed his yard more than most, but my parents told me that was because he would never kill anything. (His grandson informs me that he did have a store of "pinned insects" in a box in his attic, and some of his specimens were placed in museums where they probably still survive.) Nevertheless, I always looked forward to our visits to his home. My childhood observations corroborated the writing about him: he had a steady, friendly, warm personality.
He grew up in Germantown in Philadelphia and received his BS, MA, and PhD degrees from the University of Pennsylvania, the last in 1905. His six-page obituary by a friend of fifty years in the Entomological News says, "[he] . . . published thirty-one original contributions, one dealing with plants, three with aspects of vertebrate morphology and toxicology, the remainder on insects . . . In all aspects of his life Henry Fox was the traditional scholar, quiet, painstaking with details, careful in his analysis of the work of others, observant, tolerant, and with a deep-seated traditional American regard for freedom of thought and belief."
His early career included an amazing number of teaching and research positions, including Woods Hole, Harvard Medical School, Cold Spring Harbor, the University of Wisconsin, and the Northeast High School of Philadelphia.
He married in 1906 and in 1907 began a steady job at Ursinus College in Collegeville, Pennsylvania, during which time he also did research at the University of Pennsylvania Medical School on the poison gland of the gila monster. In 1912 he began six years full-time with the Bureau of Entomology, a section of the U.S. Department of Agriculture that existed from 1894 to 1934. His work in Indiana, Virginia, and Tennessee included investigations of outbreaks of army worm, cornstalk beetle, and the mosaic disease on tobacco plants.
In 1918 he accepted a position at Mercer University in Macon, Georgia, having first received assurances from the university's president that he would have "full academic freedom." During his summers he continued to work with the Bureau of Entomology tracing the steady spread of the Japanese beetle from its original introduction in Riverton, New Jersey. During that time he also helped found the Georgia Academy of Sciences, of which he was secretary-treasurer, and the Georgia Society of Naturalists, of which he served as president for its first two years.
Despite the president of Mercer University's best efforts and support by many members of the board of trustees, a committee of the board reported (quoting the aforementioned obituary) that "Dr. Fox's expressed views (being those of any broadly trained biologist) were utterly at variance with those held by the general run of Georgia Baptists," referring to his teaching of the theory of evolution. They threatened to close the university unless he either resigned or was dismissed. He refused and the university remained open until he accepted another job in 1925 at the Japanese Beetle Laboratory, where he was employed for a decade.
His daughter told me years later that he then became active in the movement for tenure for teachers and the strengthening of the American Association of University Professors.
In 1935 he "retired" to Ocean View, New Jersey, to the home that he and his wife had built in 1910. He had spent considerable time in his youth doing field studies there, "the biota of which had always held a particular spot in his affections." He often was the guide on field trips in Cape May County sponsored by a variety of organizations. Throughout the region he was known as the one to consult with questions about insects, birds, local plants, and wildlife conservation, among other topics. For the first eight years of his "retirement," he spent much of the year in New York City as an "emergency instructor of biology" at New York University.
He married Adelaide Townsend Godfrey Fox in 1906. He was very concerned about the future of life on this planet, in particular the human population explosion. He believed a human couple should have only one child. His "only" was my beloved Aunt Emily Fox Clark, born in 1908. The only child of Aunt Emily and my father's older brother, Dr. George Clark Sr., was Dr. George Clark Jr., who has helped me very much with this article. I hereby express great appreciation to my cousin George, a nationally noted ornithologist, who in his retirement takes many groups on birding trips, for some of which he rises at 4:00 am. He credits his grandfather with having a significant impact on his choice of career. His only son spends much time exploring still-wild places and climbing mountains, carrying on the family tradition of enjoying nature and the out-of-doors.
Dr. Fox received considerable national recognition in 1925 via an article about him and the events at Mercer University in Science magazine.* It included the entire public statement by the president of the University, Rufus Weaver, supporting him. ". . . You have not taught the theory of evolution as an established fact. In your class-room work you have always represented its hypothetical character. This theory is one which every student in science must know, and I am glad that in your presentation of it you have never shown a dogmatic or arrogant spirit. . . . I thank you most heartily for your faithful services as a teacher, for the splendid record your students have uniformly made in the medical schools of the nation, for your high scholarly standards, and for the irreproachable life you have lived among us."
The article also quoted a statement by the students: "'. . . he always advised students to maintain their religious faith and ideals, stating that there is no conflict between true science and true religion; and finally that the great development of the science department at Mercer University had come through his efforts.'" It went on to say, "Students preparing for the ministry who had taken Dr. Fox's work were particularly strong in their commendation of him and in their condemnation of the proposed dismissal."
The article also says, "Dr. Fox was a member of the Baptist denomination before going to Georgia and was not aware that his theological beliefs differed materially from those held by intelligent Baptists generally." Also, "He was a good and faithful member of a Baptist church in Macon." This came as a surprise to my cousin and me, since his growing up in Germantown and his Quaker loyalty in our youth had led us to conclude he was a lifelong Quaker. However, his house in Ocean View was right across the street from a Baptist Church founded in 1855, so he may have found that church a congenial religious community. There probably would not have been Quaker meetings where he was employed in Indiana, Virginia, and Tennessee before going to Georgia, and he surely was a broadminded person who liked community. He attended Seaville Meeting north of Cape May when my cousin and I knew him.** It seems likely that after the Georgia Baptists fired him ostensibly for his religious beliefs, he wanted to belong to a less dogmatic religion. What is certain is that in his retirement he was an admirable Quaker who personified the best in our tradition and also of science and teaching.
* Conklin, E. G. 1925. "Dismissal of Dr Henry Fox from the faculty of Mercer University." Science Vol. 61 (No. 1572):176-178.
** Editor's note: Seaville Meeting was founded in 1693 by Friends fleeing persecution in England and New England. The Seaville Friends Meeting House is the oldest Quaker meeting house in New Jersey.
---
Health Care, Science, and Money
Linnea Capps, Brooklyn Meeting
In the 1970s and 80s a great deal of corporate money in health care was used for gifts to medical societies and individual physicians. At that time the ethics of this practice was rarely questioned. Most organizations of doctors accepted large amounts of money for their meetings along with advertising for new drugs. Individual physicians also received perks, such as lunch for their office staff, dinners, books, samples of new drugs, and even trips to resorts thinly disguised as continuing medical education. These practices raise questions about how money may be compromising the integrity of medical science.
More recently, as these perks from pharmaceutical companies have become better known to the public, receiving such gifts has increasingly been considered a serious conflict of interest. Studies have found evidence that these gifts really do influence decision making about prescribing. Medical societies have had to confront the issue of how support for their educational activities may promote the use of newer and more expensive medications that are not necessarily better than older or cheaper ones. Some organizations have stopped accepting money from pharmaceutical companies unless it comes with no strings attached in terms of the content of educational sessions they pay for and the inclusion of advertising. Some hospitals have also imposed stricter limits on direct access to physicians by drug reps, especially in academic centers with trainees and students. Such limits may reduce the influence of drug company promotion directly to physicians in the long term, but pharmaceutical company payments are still common even if subject to some restriction. Many medical specialty societies continue to depend on income from pharmaceutical companies.
Thus, despite the recent decline in its ability to trade gifts for drug promotion, Big Pharma remains very powerful and influential in the pursuit and applications of medical science. During Congressional consideration of Medicare Part D (which pays for medications), drug companies were able to persuade legislators to include a provision that prevents Medicare from negotiating and asking for discounts as a large customer. By contrast, the Veterans Administration has always been able to negotiate medication prices and has much lower costs as a result.
However, the public has won a recent victory over a drug company. GlaxoSmithKline has pleaded guilty to fraud in its unlawful promotion of prescription medications for depression and its failure to report safety data on a medication for diabetes. It promoted the anti-depressant Paxil to pediatricians even though the FDA had never approved it for use in children. In addition, the company did not fully report data showing that Avandia was causing serious cardiac side effects while the company continued to promote and advertise it. GlaxoSmithKline will be paying a record $3 billion fine. Some commentators have suggested that the government also consider criminal charges.
The influence of corporate money also remains hidden from the public in the development of guidelines for medical care. Issued by groups of experts that analyze all the studies related to certain common diagnoses and treatments, these guidelines help physicians decide what diagnostic tests and treatments are most useful. The guidelines are never black and white and rely on expert opinion as well as evidence; medicine is almost never an exact science. They are widely disseminated in medical journals and there are several examples of their use to monitor quality of care. For example, guidelines specify which antibiotics should be used for initial treatment of pneumonia and which medications should be given to all patients who suffer heart attacks. Hospitals and insurers monitor how often physicians follow the guidelines.
A number of government-sponsored agencies in the United States and Europe have developed guidelines that are generally respected and considered to be without influence by corporations, but these agencies have sometimes been criticized for recommending too little or too much intervention in a disease process. A dramatic example occurred in 1995 when the House of Representatives voted to cut off the funding to the Agency for Health Care Policy and Research after it issued a guideline for treating back pain. Spinal surgeons had lobbied heavily against the guideline, claiming that the guideline was biased against surgical treatment of back pain. The agency, now called the Agency for Healthcare Research and Quality, ultimately survived, but with a substantially diminished budget. It has since ended its guidelines program. Subsequently, a RAND study found that more recent guidelines, most of which have come from medical specialty societies or other private organizations, were "of substantially worse methodological quality" than those issued by the federal agency.
Guidelines have also been questioned when pharmaceutical and medical-device companies with a financial stake in the outcome provide substantial funding for their development and implementation. When members of guideline committees also have substantial financial associations with industry, it inevitably raises further questions about conflict of interest. For example, in 2006, Eli Lilly was criticized for providing the impetus for developing practice guidelines for the treatment of severe infections and coordinating the process with its marketing campaign for a new drug, Xigris. More recent studies have shown that Xigris is not effective.
A study done in 2011 by a group of physicians from Mount Sinai and Yale medical schools looked at the composition of panels that developed guidelines for treatment of diabetes and blood cholesterol disorders. Reviewing 14 recently-developed guidelines with a total of 246 authors, the physicians looked for such information as compensation of authors by pharmaceutical companies (grants for research, honoraria for speaking to other physicians) and participation in research funded by the company to study a drug that was being considered for inclusion in the guideline. They found that 55% of panel members had financial conflicts of interest. In addition, they found that 13% did not declare all their conflicts (that is, the study group found evidence elsewhere of pharmaceutical company compensation that the panel members had not reported). By contrast, government-sponsored panels had significantly fewer members with conflicts of interest than did panels supported by non-governmental organizations. The physicians also found that the number of conflicts of interest have been increasing over time, with 66% of guidelines published after 2007 showing conflicts of interest compared with 28% of those in earlier years.
Physicians are becoming increasingly aware of this problem and it makes us question whether we can trust these guidelines to really give us the most expert and unbiased advice.
What is the answer? The Institute of Medicine (IOM) published recommendations in 2009, including a recommendation that institutions engaged in medical research and education, clinical care, and the development of clinical practice guidelines should "adopt and implement conflict of interest policies" and "strengthen disclosure policies." The IOM also stated that Congress "should create a national program that requires pharmaceutical, medical device, and biotechnology companies and their foundations to publicly report payments to physicians and other prescribers, biomedical researchers, health care institutions, professional societies, patient advocacy and disease-specific groups, providers of continuing medical education, and foundations created by any of these entities." This latter recommendation has not been implemented and the current political climate does not encourage confidence.
Linnea Capps is a primary care physician who has worked in community health centers in Harlem and Washington Heights in New York City. She also is the president of Doctors for Global Health, a non-profit organization that promotes health and human rights through projects in communities in Latin America and Africa. A regular attender of Brooklyn Meeting, she continues to feel led to advocate for health care as a human right and to speak out against putting profits above the interests of patients.
---
Quaker Values and Scientific Investigation
Adam Segal-Iaacson, Brooklyn Meeting
Quakers are mystics and, as such, we don't associate Friends with the hard-edged world of science. But fundamentally, Quaker process and the scientific process seek similar goals: what is true about the world? S. Jocelyn Bell Burnell, one of the discoverers of pulsars and a Quaker, said, "In both Quakerism and science you must be completely ready to revise what you hold to be the truth; you always hold things provisionally, and you are always open to revising them."1 And while we don't usually think of Quaker scientists (any more than we think of Quaker politicians; but officially two U.S. presidents were Quakers), the "Quakers in science" page on Wikipedia lists 20 prominent scientists, several of them recent. While it would be fairly easy to see how a Quaker background might lead a scientifically minded person into environmental science or medicine (Thomas Hodgkin, for whom Hodgkin's lymphoma is named, was a Quaker, and Joseph Lister, who developed antisepsis in medicine, was raised a Quaker), other scientific fields seem more distant.
Quakers have always valued both women and men and have prized education. So it is perhaps no surprise that Quaker women excelled in science at a time when few women were recognized by the larger society for scientific achievements. Maria Mitchell, who achieved worldwide fame for discovering a comet in 1847, was raised a Quaker. Although she had left the Quakers for the Unitarians by that time, undoubtedly her education as a Quaker helped her in her discovery and her Quaker sense of equality no doubt enabled her to demand and get equal pay as a woman professor of astronomy at Vassar.2 Quakers have been even-handed about education for both sexes from the start, and this is one way that Quaker values have worked with science.
But an even greater example of the interaction between Quaker values and science can be seen in Sir Arthur Eddington, born in 1882. He early showed talent in mathematics and was encouraged by college teachers and fellow Quakers alike to attend university, which he did, enrolling in Trinity College, Cambridge, in 1902. Few Quakers attended Oxford or Cambridge; the Uniformity Act, which excluded nonconformists from Cambridge, had only been repealed in 1862.3 Eddington excelled, and upon graduation, took a post at the Royal Observatory in Greenwich, where he began his work in statistical cosmology. His work was stellar (pardon the pun) and he was soon named a professor at Cambridge. Eddington's main interest was in the structure of stars and he developed a model that some derided as guesswork but that actually conformed reasonably well to reality, validating his assumptions and making his name as an astronomer.
When World War I came, the anti-German sentiment that affected general British culture (leading, among other things, to the change of the ruling dynasty's name) also affected scientists. Many British astronomers who had been in close communication with German astronomers now cut off German scientists and refused to entertain ideas proposed by them. Matthew Stanley documents the attitude of British astronomers, saying, "By its prosecution of the war, Germany had forfeited its position in the civilized world. Science, no matter how ideally apolitical, was not exempt."4 As a Quaker, Eddington refused to reject German colleagues and ideas. In a dissent published in the journal of the Royal Astronomical Society, he pleaded for continued international cooperation:
I think that astronomers in this country realize the disaster to progress which would result from dissolution of partnership, and there is no disposition to belittle the contributions of Germany. Some of the problems of our science can only be attacked by world-wide cooperation . . . the lines of latitude and longitude pay no regard to national boundaries. But, above all, there is the conviction that the pursuit of truth, whether in the minute structure of the atom or in the vast system of the stars, is a bond transcending human differences—to use it as a barrier fortifying national feuds is a degradation of the fair name of science.5
Eddington wanted to rebuild the international nature of scientific investigation after the war. He had shown some interest in early reports regarding relativity, but after the war he saw Einstein's work as important not only for its actual content as it related to astronomical problems, but also for the political possibilities it presented. Einstein was also a pacifist, and finding a fellow among the German faculty presented him with an opportunity to rebuild scientific internationalism.
Some British astronomers objected to relativity because there was no experimental evidence supporting it, while others objected simply because its author was a German. (Curiously, Nazi scientific authorities would later reject Einstein because he wasn't German enough because he was Jewish.) Some astronomers questioned whether Germans were capable of good science at all, given that another German astrophysical theory had recently been disproven.
Einstein's theory predicted that the light from a star would bend around a massive object. The solar eclipse of 1919 presented an ideal opportunity to measure that deflection. Eddington mounted expeditions to Africa and South America to measure this deflection, planning for which began even before the war was over. Eddington hoped to provide experimental evidence for Einstein's theories and to help rebuild internationalism in science, but in his advance papers about the reasons for the expedition, he also noted that a negative result (i.e., disproving relativity) would also be valuable.
The expeditions themselves were difficult. The tropical locations made developing the photographic plates difficult, and weather proved to be problematic. Additionally, the deflection that would need to be measured on the photographic plates was small, one-sixtieth of a millimeter. When the teams returned home (Eddington had led the team to Principe, off the coast of Africa), the quality of the photographic plates was poor, but they clearly showed a deflection. Fortunately, a secondary telescope set up at the Brazilian site resulted in some good quality plates. After much data analysis, Eddington presented results that showed clearly that Einstein was right. The scientific debate about relativity continued, but slowly astronomers took in the conclusion that these measurements did mean that the theory was likely correct.
While more recently some have criticized Eddington's interpretation of the experimental evidence as showing bias in favor of Einstein, even such critics admit that Eddington's willingness to even entertain Einstein's theories set him apart from other British scientists, who had rejected German scientists out of hand (although some newspapers had painted Einstein as a "good German" for not supporting the war). Eddington was clearly guided by Quaker values in his willingness to accept and support Einstein rather than consigning him to subhuman status as an enemy, as anti-German sentiment among the public had done during the war. Eddington became well-known for his support of relativity and for his ability to present the science clearly and with wit.
But perhaps just as important for us, Eddington rejected the idea of a fundamental conflict between religion and science. This idea had been around since at least the time of Galileo. In recent times, belief in the conflict between science and religion has been increasing, but that doesn't mean it is correct. C.P. Snow's book The Two Cultures is emblematic of this idea that science and religion are enemies.
Eddington held a different idea—that science and religion were separate fields of experience, but that both were valid and that both science and religion were about seeking the truth. New concepts are proposed, tested, and then accepted. "This I know experimentally," as George Fox said. The Quaker idea of seeking became equivalent to the search for scientific truth for Eddington and his willingness to seek and support the truth wherever it was found drew directly upon his Quaker beliefs.
Will T, a Quaker blogger, argues that this parallel is precise.
I think that for Fox, and anyone who proposes an experiential theology, as Friends do, the element of experiment is important. Fox came to his opening only after he had traveled around seeking out the leading lights of his day. He found that none of the people who he met could answer the questions in his soul. He found the answers in an inner voice. He heard this voice, he identified it as the Inner Christ, and he found confirmation in that his "soul did leap for joy."6
Will T goes on to note that many Quaker ministers (he specifically mentions John Woolman and David Ferris) talk about testing and retesting their leadings. This process of discernment, he says, has direct parallels to scientific experiment. Sometimes a leading—a hypothesis­­—is rejected, sometimes accepted. This process of seeking and testing is exactly parallel to how science is supposed to work.
These days scientific results are so intricately involved in many policy debates. Friends should take the same approach to entering these debates as they do to examining religious experience: seeking, examining, testing, and reaching a conclusion. Often we take someone's personal experience over all other facts, but Quakers should be testing everything against their understanding of the Spirit. By bringing the scientific, and Quakerly, process to bear, we can reach an understanding, and, we hope, a truth. Our mystical bent toward the Spirit need not be at odds with a scientific approach to the world. "This I know experimentally" can encompass both.
1. Quoted in the Belfast Telegraph, 13th June 2007, as quoted on quaker.org, accessed 1 Aug 2012.
2. Wikipedia article on Maria Mitchell, accessed 1 Aug 2012.
3. Http://hansard.millbanksystems.com/commons/1862/jun/13/cambridge-university-and-the-act-of. Accessed 1 Aug 2012.
4, 5. Matthew Stanley, "An Expedition to Heal the Wounds of War: The 1919 Eclipse and Eddington as Quaker Adventurer," Isis 2003;94:57-8.
6. Posted October 11, 2011. http://gtitl.blogspot.com/2011/10/this-i-know-experimentally.html. Accessed 1 August 2012. Other material about Eddington has been taken primarily from two articles by Matthew Stanley, "An Expedition to Heal the Wounds of War: The 1919 Eclipse and Eddington as Quaker Adventurer," Isis 2003;94:57-89, and "Explorer of stars and souls: Arthur Stanley Eddington," Physics World 2005 (Sept):33-38.
---
Confessions of a Quaker Who Loves Science
Paul van Linden-Tol, Brooklyn Meeting
Science expands my comprehension of creation. Contemplating the Higgs-Boson particle (aka the "God" particle) and quantum theory (which I barely understand) and the possibility of parallel or alternative universes, I conclude that all conscious creatures in the universe experience the light within. But when I toy with the idea of parallel or alternative universes and life beyond the solar system, most of the time I am pulled back to reality by the realization that there is still a lot of inequality, poverty, injustice, and war in this world.
Before becoming a Quaker, I did participate in marches, I had a kind of Christian/Buddhist ethics, and my concept of God was "The Force", a theology more akin to that of Mr. Spock in Star Trek. Becoming a father and joining Brooklyn Friends Meeting turned me into a fellow earthling. After all, there is only a very distant link between particles, molecules, or cells and compassion, love, and empathy. Even so, I still ponder and follow on occasion the latest scientific discoveries.
I am not alone. There might be amongst us amateur botanists, naturalists, astronomers, or lepidopterologists (butterfly experts). Many parents can be considered lay nutritionists, physicians, or psychologists. Activists often have to delve deeply into chemistry, physics, geology, or biology to question experts brought in by powerful interests.
However, when money, power, and/or naiveté come into play, science can become toxic (Editor: see the article by Linnea Capps on "Health Care, Science, and Money" in this issue). When this happens, we not only have to speak truth to science, but often we have to learn the language of science, interpret the facts, and make a judgment. Luckily, most of the time scientists do this for us. But even for scientists, long-range consequences are often difficult to see.
From Wikipedia, I learned that the Chinese drilled for oil 2000 years ago, a Persian alchemist distilled oil for military use, a Polish pharmacist perfected distillations from crude oil (which probably saved quite a few sperm whales), an American geologist plotted the oilfields in the Oklahoma panhandle, and by 1903 the first cars were being mass-produced and oil began to rapidly replace coal as the main source of greenhouse gas emissions. The discovery of radio waves led to radio, radar, and airplane safety, but it also has contributed to over-fishing. We now have reached a state in which our existence on this planet is in peril partly because of scientific discoveries, and some serious changes need to occur.
Because we are not burdened with too much fundamental dogma, Quakers often can remain flexible in our ideas. Together, we can make these changes. We can connect analyses to the heart and then make judgments that lead to actions of conscience, whether we are lay people or scientists.
---
Discoveries in the Fold
Mitch McEwen, Brooklyn Meeting
How do we ever discover anything?
Often something called a discovery speaks, in retrospect, to the ignorance and hubris of the entity making the supposed discovery—the mythologized history of Christopher Columbus and the discovery of this continent, for example. But in science we find a model for discovery that repeatedly breaks open new theories and realities. This scientific potential for discovery speaks to the inspirational significance that science has in many fields outside of science, including my own field of architectural design.
And so I wonder, how does science today address discovery? And how do these tools compare to the Quaker practice of seeking discernment?
Last September a group of video game players solved a problem in molecular biology that had stumped lab scientists and their computers for some time. This may not register as a Galileo-level discovery, but it made a major contribution to the field of applied molecular biology. Playing a game called "FoldIt"—an invention of biochemists at the University of Washington—online gamers built a sequence of proteins that brings medical science one step closer to a cure for HIV. Scientists had been working on understanding the folds of the specific proteins related to the virus that causes AIDS in rhesus monkeys for 15 years. The video game players solved the problem in roughly three days.
My own field of architecture could learn a lot from this implementation of crowd-sourced* playful problem solving. Conventional architecture remains rooted in the idea of the expert or lone genius directing other people to achieve an unyielding vision.
And what about Quakers? The success of amateurs working on the game of FoldIt may not immediately resonate as comparable to Quaker process. Those of us who participate in committees, meetings for worship with a concern for business, or other work probably do not think of Quaker process as fast. Our form of collective seeking can often feel laborious and slow.
But perhaps we focus too much on results. In the example of FoldIt and also the DNA sequence game Phylo—an online game developed out of McGill University—game players are not arriving at cures. They are presenting understandings. McGill University calls Phylo a "challenging flash game in which every puzzle completed contributes to mapping diseases within human DNA." Each player, by providing clarity of shape and relationships, furthers the understanding of the disease's molecular structure.
While one might view crowd-sourcing as a cultural phenomenon linked to democratization of media, these gamification tools in molecular science produce technical knowledge that contributes to long-term research goals. Scientists may be impressed by what is cool and contemporary (as are professionals in my field of design), but they are, perhaps, more concerned with producing and sharing results. The discoveries produced by FoldIt and Phylo are not so much results as understandings. The success of these platforms reveals a gap between what sheer expertise can achieve and what understanding can emerge from the collective process of the game.
In meeting for worship, and in other Quaker practices, we seek. Without vocal leadership, without obvious guidance, we seek without knowing where the seeking will take us. Like the players in FoldIt, we may be tackling something that feels to us abstract or insignificant.
I am often moved in Meeting by other Friends' messages. Sometimes multiple messages will link together in the silence, forming a meaning for me personally in the silence. We are not experts. We speak from our own personal joys and sorrows, experiences and confusions. Often, though, in our shared, worshipful listening, we achieve a wisdom far beyond our individual experience and capacities.
* "Crowd sourcing" is a problem- solving model in which an unknown group of solvers—the crowd—independently submit solutions to a problem.
---
Struggle and Spirit: Why We Can Keep Both Good Science and the Bible
Fred Jensen, Buffalo Meeting
Unless you live under miles and miles of sedimentary rock, you know that there is an ongoing tension between science and religion in our culture. This past summer's American Educator: A Quarterly Journal of Educational Research and Ideas contains articles on how well the theory of evolution has been accepted by the scientific community, and how much opposition there still is to the theory amongst the American public. Gallup found that 40 percent of Americans believe that humans were created in their present form 10,000 years ago, and 39 percent of Americans deny that humans developed from earlier species of animals. Given there is such strong agreement amongst biologists that evolution did indeed occur, these numbers are astonishing.
Committed Christian that I am, it pains me to say that Christianity, or at least, the most popular version of Christianity, is the source of the problem. In the twentieth century, a series of pamphlets called The Fundamentals described the Bible as, " . . . an authoritative textbook of human and natural history—a textbook apparently in conflict with scientific accounts of evolution." American Evangelicals have become largely unified in their opposition to the teaching of evolution, and since the Evangelical church is so outspoken, they have convinced many Christians, and many atheists, that being a Christian is indeed antithetical to believing in science. It is my impression that many Americans and others have internalized the black-and-white thinking of the fundamentalists. That is, some who would agree with all the teachings of Jesus have nevertheless rejected Christianity because they believe to accept Christ would be to reject science. Furthermore, I wonder how many Christians have rejected science (or accepted the pseudoscience of intelligent design) specifically because they think their faith requires them to.
But is Christianity really antithetical to science? It seems to me that simply allowing a little common sense into our interpretation of scripture should both refute the idea that the Bible is an infallible resource for history and science, and should allow us to accept the Bible as a resource for understanding what it means to be a child of God. Common sense should tell us that a story with a talking snake for a villain is neither history nor science, but a philosophical fable. Furthermore, isn't it odd that the Eden story describes the animals as inadequate attempts to create a partner for Adam? So, all the many, many animals on earth were God's failed attempts to give Adam a wife? Why did it take God so many attempts to get it right? (Genesis 2: 18-20)
Now let's turn back to Genesis One, where we find the familiar seven-day creation story. This passage is poetry. Poetry is not supposed to accurately portray science or history. Think of Joyce Kilmer's famous poem "Trees." It says the earth has a breast and trees have a mouth. That's not scientifically accurate. Yet it is still a good poem.
Likewise, the Creation Poem in Genesis is a good poem. Look how it shows God separating the day from the night, the sky from the water, and the water from the land. The universe portrayed here is created by the separation, balance, and integration of opposites: light/dark, up/down, land/water. While it would be wrong to call this poem scientific, it is interesting that science has discovered many examples of the dynamic interplay of opposites in the universe. Electromagnetism consists of a negative and positive force, and when these come into balance the atom is formed. Particles have their anti-particles. For every action, there is an equal and opposite reaction. Also note the Creation Poem describes God as creating the universe through speaking, not through manipulation. God does not construct the universe like an engineer, but rather issues decrees. Creation apparently receives liveliness through listening. In most English translations of this poem, we hear the word "Let." Let there be light, let there be land, let there be life! It is like we are all getting a profound invitation to be fully alive. On the sixth day, God creates humanity, male and female, in God's own image. Then, "God saw everything that he had made, and indeed, it was very good." (Genesis 1:31) All human beings are declared to be children of God, and all are declared "very good." I wonder if the fundamentalists miss the main point of the poem—that God delights in us and has made us in God's image. The Creation Poem portrays a Creator who decrees life, who divides and balances, and who delights in the doing.
Perhaps behind all the objections to evolution there is a fear, a fear that, should science account for all aspects of the development of the physical world, Christianity will become obsolete. The institution of the church will cease to be. Candidly, while I support the freedom of religion in our country, I will shed no tears if all those fundamentalist churches close their doors. They are doing more harm than good with their anti-science activities. However, the Society of Friends is different. Though I am not yet a member, I can see that the Friends are open to both science and spirituality. It is with this openness in mind that I defend the compatibility of the Christian faith and science, and I do so by looking at Paul's understanding of the opposition of the flesh and the spirit.
The Apostle Paul wrote in his letter to the Romans, "For the creation waits with eager longing for the revealing of the children of God; for the creation was subjected to futility, not of its own will but by the will of the one who subjected it, in hope that the creation itself will be free from its bondage to decay and will obtain the freedom of the glory of the children of God." (Romans 8: 19-21) This sentence is disconcerting. Someone subjected creation to futility? Like the Church Lady from the old Saturday Night Live sketch used to say, "Could it be . . . Satan?" No, Church Lady - Paul does not imply this devilish explanation. Rather, Paul says the futility provided for hope of future freedom; a difficult means to a noble end. The incarnation of evil is hardly noble. Paul is talking about the creator, saying it was the creator's will that creation would be futile. This theology may well seem incongruous with conventional theology, which affirms the loving wisdom of the Creator. Can we really see a futile world as a created world?
First, let us acknowledge that the "futile" description fits the universe we see. Although Paul lived a long time before modern science, his observations are what science also observes. The Second Law of Thermodynamics, which describes how the universe is gradually running out of energy, was formulated in 1850. Interestingly, Darwin's Origin of the Species was published a mere nine years later in 1859. Put the Second Law together with the theory of evolution, and you discover this: that nature is a struggle for energy. Species that find ways to get energy will survive; those that don't will perish. Plants use energy to make sugar. Animals take this energy by eating the plants. Parasitic worms in the guts of animals take the energy from the animals. Viruses take energy from everyone. When the world runs out of energy, everyone dies. The universe is running out of energy. Modern science has shown that the universe is indeed, in the long run, futile. I do not believe Paul had supernaturally discovered the law of entropy centuries in advance. Rather, I think Paul was simply observing what is evident even without petri dishes and telescopes: things fall apart and pass away. Decay and death are a part of nature, and quite often life seems futile. Science has now confirmed the futility of nature that humans have long observed.
Though we observe futility in the outer world, we have an inner experience that life isn't futile after all. Paul calls the futile part of life "flesh" and the meaningful part of life "spirit." He writes at length about the flesh versus the spirit: "So I find it to be a law that when I want to do what is good, evil lies close at hand. For I delight in the law of God in my inmost self (emphasis mine), but I see in my members another law at war with the law of my mind, making me captive to the law of sin that dwells in my members. Wretched man that I am! Who will rescue me from this body of death? Thanks be to God through Jesus Christ our Lord! So then, with my mind I am a slave to the law of God, but with my flesh I am a slave to the law of sin." (Romans 7:21-25) Paul perceives two modes of creation: the flesh and the spirit.
This understanding of two modes of creation, functioning together in opposition, and hopefully approaching balance, is eloquent. We can envision God as having a left and a right hand. Being left-handed, I say that the left hand is the spirit, the bringer of life. The right hand is the bringer of struggle and decay. It is the interplay of opposites, the yin and the yang, the day and the night. Turning back to Genesis, both are "very good" in their own way. The division and balance is itself good.
As mentioned above, the theory of evolution holds that all the beautiful and ugly forms of life we see, in all of their awe-inspiring diversity, come about due to the struggle of life to find energy. Sexual reproduction exists because it is the one way a species can maintain a genetic arsenal against bacteria. Flowers of trees attract bees, which help them pollinate. The glorious feathers of a peacock can attract a female or frighten a predator. In the last paragraph of Origin, Darwin describes his newly discovered view of life as full of "grandeur." Nature, for all its terror, is indeed wonderful. The Apostle Paul was well-aware of the struggle of nature: "We know that the whole creation has been groaning in labor pains until now; and not only the creation, but we ourselves, who have the first fruits of the Spirit, groan inwardly (emphasis mine) while we wait for adoption, the redemption of our bodies." (Romans 8:22-24) Paul is no biologist, but he can readily observe the struggle and difficulty in nature. What Darwin has done is to show that the marvelous wonders of the biological world come out of this struggle and difficulty.
Where shall we find the other mode of creation, the Spirit? In the quotes from Paul above, I have emphasized the words "inmost self" and "inwardly" because these words fit so nicely with George Fox's teachings about the "Inward Light." Paul does not look to the external world that can be scientifically studied and measured to find hope for redemption. Instead, he looks within, for the Spirit. Quakers look for this same Spirit in our meetings. We affirm this Spirit is bigger than us when we affirm that all people, regardless of ideologies, institutions, and idioms, can find this spirit. While our bodies show us we are children of nature, the Spirit affirms we are children of God.
Is our belief in the Spirit "unscientific"? As a matter of definition, yes. Science by definition makes predictions about phenomena that can be manipulated by experiment with measurable results. The Spirit is not predictable, it cannot be manipulated, and it cannot be measured. It is a gift of grace. However, we can lay our non-scientific belief in the Spirit beside our acceptance of science and see compatibility. Here's how we see the compatibility. We observe the universe is governed by the interplay of opposites. We also observe the universe is falling apart. Dark energy accelerates the expansion of the universe, flinging all the stars farther and farther away from each other. Eventually entropy will condemn the whole universe to heat death. It's all falling apart, it's all futile. The apparent law of the universe is dissolution. If this is so and the law of balance also holds, shouldn't there be a law of unification to balance the law of dissolution? This, I believe, is what the Spirit is. It is unification to balance dissolution.
Given that every other entity and energy in the universe has an opposite, is it far-fetched to infer that the law of futility itself has an opposite? Can we infer that the law of decay and dissolution is met by a balancing law, a law of integration and fulfillment? It is this law that I am calling Spirit, the left-hand of God. Indeed, most religious traditions in the world affirm there is something life-giving called "the Spirit." Is humanity just deluded? Or can we affirm that this Spirit is real, albeit not something we can study scientifically?
I have only been coming to Quaker meeting for a year and a half. Before then, I went to another denomination and was a preacher. I was very involved in this mainline Protestant denomination growing up. When I was sixteen I was asked to speak at a youth camp, and I chose to talk about evolution in the Bible. Even then, I apprehended that the two were compatible. It has become a calling of mine to reconcile science and Christianity. I eventually became ordained in the same denomination that raised me and educated me. As a preacher I encountered much indifference and outright resistance to science. It frustrated me, and was a factor in my decision to eventually depart from my denomination and my career.
Christians have a covenantal calling to be curious about creation, and we can't put on blinders and pretend that facts aren't facts. If we do, we will push ourselves to the very margins of the society we are called to reform. It is sad to me that the conflict between religion and science is still so strong. However, I am happy to report that I find the Quakers to be extremely friendly to science. Therefore, I am pleased to have found a place I can call my home. Isn't home where the Spirit leads?
* Some get around the obvious difficulty that the Eden story has a talking snake in it by claiming the serpent is Satan in disguise. However, there is no indication in the story itself that the serpent is anything other than a serpent, and the text clearly indicates that the serpent is a "wild animal" created by God (Genesis 3:1).
1. American Educator: A Quarterly Journal of Educational Research and Ideas, Volume 36, No 2. "An Evolving Controversy," by Michael Berkman and Eric Plutzer.
2. Gallup, "Evolution, Creationism, and Intelligent Design," December 10-12, 2010, www.gallup.com/poll/21814/evolution-creationism-intelligent-design.aspx. Cited from American Educator, Vol 36, No.2, p. 15.
3. Ibid. p. 15.
---
Science, Revelation, and Quaker History
Steven Davison, Yardley Meeting, Philadelphia Yearly Meeting
Friends have always been open to scientific understanding and as a result, we have produced a lot of scientists and quite a few important ones. Historical circumstances have encouraged this interest and so has the peculiar character of Quaker culture. But our embrace of scientific advances and ways of thinking have also at times energized the forces that have divided us. Ironically, although our community has been in a unique position to build a bridge between science and religion, we have at times looked at each other across that chasm and found ourselves unable to cross.
We turned to science early in our history, producing several notable scientists by the mid-1700s. In the very beginning, most of the Children of Truth were yeoman farmers (small farmers cultivating their own land, a class of freeholder below the gentry) and small town trades people. But the persecutions that began with the Restoration of the monarchy and the collapse of the Puritan project beginning in the 1660s drove Quakers off the land in large numbers and into business and commerce.
By the time Friends emerged from the persecutions, they had helped to jump-start the modern capitalist economy. They were very well-to-do, notwithstanding the incredible economic depredations they had endured. These Friends—upper middle-class, if not upper class—had time and resources to devote to—what? The pastimes that others of their class could enjoy—games, music, theater, the arts, and things—the superfluities of upscale lifestyle now available to them—these were denied them by their religious convictions. But scientific and technological experimentation and inquiry—these things contributed to human betterment. Some Friends found this option not only morally attractive but personally fulfilling, a good match for their temperaments.
However, just as some Friends were joining the swelling ranks of the curious and ingenious explorers of natural truth, the truths these and other pioneers were discovering began gradually to undermine elements of revealed religion that seemed to many at the time basic to Christian faith. And the scientific worldview began to replace the religious worldview—challenging not just the specifics of revealed religion like the creation story or the virgin birth of Jesus, but the preeminent authority of revelation itself. You could prove stuff with science, and more and more, scientists were uncovering a world governed by laws not defined in the Bible. Moreover, science elevated reason, and reason was increasingly free to question faith, or at least to demand that one's faith be reasonable.
We are, of course, talking here mostly about the Bible. It was the clash between science and the Bible and with the until-then unquestioned faith in its unreasoned authority that would sometimes drive a wedge between Friends.
The conflict first surfaced, I think, in the so-called Irish separation of 1801. The key figure in this division was Abraham Shackleton of Ballitore, County Kildare. For Shackleton, the problem was his reasonable approach to ethics and the immorality he saw in the Bible. He simply could not square some of the to-his-mind "perfidious, cruel and unjust" (1) demands and actions of the Old Testament god with the loving Father of Jesus. He concluded that the writers of these accounts in Hebrew Scripture were rationalizing their own immoral actions and were not passing on divine revelation. However, if you doubt some particulars of Scripture, how can you trust the rest? Shackleton did not abandon his Christianity—far from it. But he did abandon the worldview of faith based on a straightforward reading of the Bible. He insisted on practicing a reasonable faith.
He was not alone in his feelings and, for its part, Ireland Yearly Meeting was already on a campaign to tighten discipline in an attempt to address a more general slackness among Irish Friends that they felt had been undermining the faith over the century and a half since the movement's prophetic beginnings. The Yearly Meeting tried to elder Shackleton and he withdrew from meeting life. In 1801, they disowned him and soon, so many influential Irish Friends had either withdrawn from the Society or been disowned that only two monthly meetings continued to report to the Yearly Meeting in Dublin and only one recorded minister remained in Ulster Quarterly Meeting. (2)
The Irish separation reflected the conflict between two rising movements of thought and feeling, the Enlightenment and the Evangelical Revival. The point of contact for that friction was the Bible. In America, Hannah Barnard was also disowned in New York Yearly Meeting (also in 1801) for holding views on Scripture that were similar to Shackleton's. The course was set for the Hicksite separations of 1827-28.
Barnard and Shackleton brought the spirit of the Enlightenment to their religion and to their treatment of the Bible in particular. But it took a while for specific scientific developments to challenge specific aspects of the text. In the fifty years following the Hicksite separations, two scientific developments rose to special prominence in this conflict: Darwin's theory of evolution and the so-called "higher criticism," the scientific application of the new tools of literary criticism to the Bible.
Evolution challenged biblical faith in ways that we still know all too well today. Biblical criticism, however, posed a much more subtle threat. There was evidence for the theory of evolution, though it was a kind of evidence that no one had thought to consider before. But it was another matter to claim that Moses could not have written some of the books attributed to him, or that there were two authors of the book of Isaiah (we now believe there were three), or that the creation story, aside from being unscientific, was also actually a rehash of an ancient Babylonian creation myth. It was much harder to accept the "evidence" for these conclusions, especially since these ideas contradicted centuries—millennia, really—of tradition.
However, many Friends found these developments extremely exciting, even inspiring. By the time of the Manchester Conference in England in 1895, many British Friends were ready to embrace the idea that
. . . modern thought, far from being evil, was largely a blessing to be accepted and used, and not forlornly to be opposed. Included in this was the principle of evolution, which need by no means to be regarded as subversive of religious belief. On the theological level, it was argued that the doctrine of total depravity was no part of Quakerism, and the shades of Abraham Shackleton and Hannah Barnard might have beamed to hear it said that there was 'no need to accept Hebrew cosmogony or chronology as a necessary part of an all-round and infallible word of God.' . . . The task was to release the talents of the Society and to show that modern scriptural knowledge and biblical criticism could be used to enhance and not to hinder faith. (3)
As Punshon relates, the Manchester Conference also unleashed a passion for adult religious education in the form of the summer school movement. This soon led in turn to the establishment of Woodbrooke, a permanent center for Quaker study in England. Both teachers and students in this movement were eager to apply the tools of biblical criticism and they welcomed the new biblical knowledge that 'scientific' study of the Bible was revealing. These Friends saw "criticizing" the Bible in these new ways as a breakthrough opportunity and a joyous extension of their Christian faith rather than as a threat.
Yet once again, tension arose. Here's John Punshon on this new outbreak of conflict between science and religion, reason and faith:
The Manchester Conference, the summer school movement, the principles and curriculum of Woodbrooke were all optimistic, idealistic, and immensely compassionate. They truly reflected the values of Friends of the time. Yet the principles on which these attitudes were based were sharply at variance with those of the Quakers who adopted the Richmond Declaration, and raised the same question: how far were their principles Quakerly and how far did they arise from some other influence? The basic principles of Quaker renewal in Britain early in the century have a family resemblance to what is known as 'liberal theology' (4), the first conscious attempt to come to terms with modern secular thought.
The clearest difference between liberalism and evangelicalism lies in its attitude towards the Bible. Throughout the Nineteenth Century, a considerable body of critical scholarship had been built up to show that the Bible should not be taken at face value. Parts of it were simply incredible. It contained proven inaccuracies and inconsistencies. Some of the books could not have been written by the people to whom they were attributed. Scripture was found to contain a wide variety of literary forms, some elevated, some crude. Archaeology began to show how there was a cultural assimilation from non-Hebrew societies, and marked parallels were noticed between many biblical narratives like the Flood story and the literatures of other near-eastern civilizations. So, many convinced Christians came to the conclusion that if the Bible were authoritative, the authority lay elsewhere than in its infallible text. This is very close to one of the traditional Quaker positions, so it is easy to see why Friends proved particularly receptive to the principles of liberal theology.
However, many Friends, especially in the U.S., stepped back from this path, sure that it led to a weakening of faith and to an unacceptable break with the saving gospel that God had given us in Scripture and tradition. At the Richmond Conference, these Friends re-embraced their evangelicalism, as evidenced in the Richmond Declaration's section on The Scriptures:
It has ever been, and still is, the belief of the Society of Friends that the Holy Scriptures of the Old and New Testament were given by inspiration of God; that, therefore, there can be no appeal from them to any other authority whatsoever; that they are able to make wise unto salvation, through faith which is in Jesus Christ. "These are written so that ye might believe that Jesus is the Christ the Son of God; and that believing ye might have life through His name." (John 20:31). The Scriptures are the only divinely authorized record of the doctrines which we are bound, as Christians, to accept, and of the moral principles which are to regulate our actions. No one can be required to believe, as an article of faith, any doctrine which is not contained in them (emphasis mine); and whatsoever anyone says or does, contrary to the Scriptures, though under profession of the immediate guidance of the Holy Spirit, must be reckoned and accounted a mere delusion. To the Christian, the Old Testament comes with the solemn and repeated attestation of his Lord. It is to be read in the light and completeness of the New; thus will its meaning be unveiled, and the humble disciple will be taught to discern the unity and mutual adaptation of the whole, and the many-sidedness and harmony of its testimony to Christ. The great Inspirer of Scripture is ever its true Interpreter. He performs this office in condescending love, not by superseding our understandings, but by renewing and enlightening them. Where Christ presides, idle speculation is hushed; His doctrine is learned in the doing of His will, and all knowledge ripens into a deeper and richer experience of His truth and love.
Still, a new light beckoned down the road to modern liberal thinking and many Friends felt its call. In 1902, American meetings that embraced the modern, "scientific" approach to the Bible and the other liberalizing trends of the time formed Friends General Conference.
Since then, the moderate evangelical branch of Quakerism has itself embraced much of the scientific worldview and the value and tools of modern biblical criticism. These latter were clearly at work at Earlham School of Religion when I sat in on Bible classes there in 1995. Because Friends have always emphasized the personal and inward experience of Christ as the foundation of Christian faith, they have been less attached to the outward details of the biblical narrative in the fundamentalist mold. Emblematic of this spirit is the relatively unbegrudging acceptance of evolution by many Quaker Christians—long the pivot-point for the fundamentalist-scientist conflict.
At the same time, one still sees the divide at work. This is especially true, I think, in our different approaches to witness. The evangelical focus on individual sin and sinfulness has often distracted Evangelical Friends from the structural causes and patterns of social, political, and economic injustice, to the societal dimensions of social ills and ecological degradation, that the social sciences have revealed to us. This often has muted our Christian witness in response to these ills in favor of missionary work. On the other hand, Liberal Friends have increasingly found the scientific worldview so compelling that they often shy away from explicitly moral and religious language and arguments for our work in the world, and especially for our witness. Instead, we often rely on the legal/political language of rights, on the arguments of the social and physical sciences and statistics, and on secular and humanistic appeals to conscience. All too often, one could read one of our witness minutes without ever realizing that it had been written by a religious organization, let alone by Quakers.
Why? Why are we abandoning moral and religious motives, language, and arguments for 'scientific' ones, or at least for secular ones? I think it partly comes down to revelation. To the degree that the wider Christian tradition of which we are a part has equated revelation with the contents of the Bible, science has helped to undermine our faith in revelation—or at least in religious revelation.
Scientific revelation, on the other hand, is a continuing revelatory success. Every year we penetrate deeper into the secret heart of the universe. Every year our mastery of certain aspects of our world increases. Every year science and the technologies it produces improve our lives in concrete ways that do not have to be taken on faith. (Of course, every year, science and technology also augment our terrible powers for destruction.) The most powerful advances, in terms of our positive social psychology, I think, are in the medical sciences and the other breakthroughs that protect us from the dangers and discomforts that our ancestors took for granted just a hundred and fifty years ago.
Take just three things as examples: eyeglasses, painkillers, and antibiotics. Think how many of us would have been "blind" in Jesus' time. Throughout the 1,500 years of biblical history, "the blind" were one of the classic categories of the poor. You get the point. Divine revelation can only touch these givens of the human condition by helping to structure a more just and caring society and by offering spiritual solace. Likewise, pain and disease have been an unavoidable part of human existence for a million years until the past century. This suffering required some explanation. The religious (or at least, the Christian) explanation has been that pain and disease are the just consequence of "the Fall," of the inherent sinfulness we inherited from Adam and Eve. "'But so that you may know that the Son of Man has authority on earth to forgive sins'—[Jesus] then said to the paralytic—'Stand up, take your bed and go to your home.'" (Matthew 9:6) But when you know that polio causes paralysis and you have a vaccine that prevents it, you have switched your worldview. When you know what causes pain organically and you can eliminate it almost at will, you begin to question the traditional explanations for its existence. You have reassigned your faith in revelation in a certain really important way.
There are two other things at work in our increasing faith in science over religion. One is that science conducts itself like a religion in many ways. Its 'priests' wear special garments. Scientific experimentation is exceedingly ritualistic: everything must be done just so, and the same way every time. It takes place in 'temples', dedicated places with controlled environments and exotic accoutrements. It has its own language, vocabulary, specialist educational training, and hierarchies. It has its 'saints' chosen by the Nobel committee and a range of other scientific societies. Some of it even relies on animal sacrifice. It almost feels natural to switch our faith to this new source of revelation.
Finally, I think we feel increasingly bereft of revelation ourselves. We claim to be a 'mystical' religion. We believe that there is something within us that can have direct communion with a Source of revelation. But, especially for Friends who have seriously downgraded the Bible as a source of revelation, we are left to our own experience, and our own experience does not very often deliver the kind of revelation that would keep us personally, intensely committed to divine revelation as a source of truth. Most of us, I suspect, have had the kind of little revelations that help us keep our faith. And perhaps a lot of us have had revelations that really transformed our lives. And some of us have had revelations that have led to real transformation in the wider world, thinking here of the Friends who started AVP, for instance, or AFSC.
But how often do we recognize these personal revelations as divine inspiration? Do we honor them by understanding them and treating them as gifts of the Spirit? Do we share them with Friends and with the world in a conscious embrace of the faith and practice of Quaker ministry? Do we order our lives in ways that invite such "good news" and prepare us to be faithful to the call when revelation comes? Does the experience of divine revelation shape our view of the world and the way we walk in it the way that secular science has come to do?
When divine revelation has pride of place in our lives—when we know God experimentally—then the so-called conflict between science and religion is a non-issue. The Quaker "faith" is experiential in ways that transcend the need for proof. This is true for personal experience, but it is also true of our collective experience: we cannot scientifically explain the experience of a gathered meeting, but we also cannot deny its truth. This is where Friends have a unique contribution to make in this debate: our approach to religion cannot be undermined by science.
Not yet, anyway. A time is probably coming when the science of the brain will identify the neurological mechanisms of religious experience and then it will only be a matter of time before we find ways to induce 'religious experience' artificially. This will replace evolution, I suspect, as the greatest scientific threat to the religious worldview.
But who knows? Maybe those neurological mechanisms are "that of God" in every person and these methods will open the floodgates of revelation and bring a new age. Then science and religion will finally merge.
(1) From Portrait In Grey: A short history of Quakers, by John Punshon, page 157.
(2) Punshon, page 158.
(3) Punshon, page 210.
(4) Punshon, page 212.
---
Quaker Resources on Science
Quakerism and Science, by Calvin Schwabe (Pendle Hill Pamphlet #343; $6.50). Reflections on Quakerism and science.
Quakers in Science and Industry: Being An Account of the Quaker Contributions to Science and Industry during the 17th and 18th Centuries, by Arthur Raistrick ($11.35 used from Amazon.com). An indispensable classic.
Science and the Unseen World, by A.S. Eddington ($12.50). 1929 Swarthmore Lecture, with a new introduction by George Ellis.
Faith, Hope, and Doubt in Times of Uncertainty: Combining the Realms of Scientific and Spiritual Inquiry, by George Ellis ($14). The 2008 James Backhouse lecture by the Quaker astronomer.
Science in Faith and Hope: An Interaction, by George Ellis ($2.50). Edited version of George Ellis's talk at Friends House in 2004.
The Gilded Dinosaur: The Fossil War Between Cope and Marsh and the Rise of American Science, by Mark Jaffe ($5) Cope was a Quaker and these two helped define the field of paleontology.
Spiritual Evolution: Scientists Discuss Their Beliefs, edited by John Marks Templeton and Kenneth Seeman Giniger ($18.95). Includes Quaker astronomer Jocelyn Bell Burnell.
Revealing God: A New Theology From Science and Jesus, by Patricia Williams ($13.95). How contemporary science upholds and enhances Quaker theology.
Biographies and Memoirs
Chasing the Rainbow: Recurrences in the Life of a Scientist, by Bob Greenler ($16).
The Art and Science of William Bartram, by Judith Magee ($34.69 Amazon.com). Famous Quaker naturalist.
Living With Nature's Extremes: The Life of Gilbert Fowler White, by Robert Hinshaw ($7.50). Leading American geographer.
No Ordinary Psychoanalyst: The Exceptional Contributions of John Rickman, Pearl King, editor ($31.69 eBook). A collection of writings by a famous Quaker physician and psychoanalyst.
Large Circles and Bold Lines: A Quaker Scientist's Meditations on the Quest for Meaning in His Life, by Stan Cherim ($9.95). Reconciling science with "non-traditional Christian theology."
The Lunar Men: Five Friends Whose Curiosity Changed the World, by Jenny Uglow ($22). Includes Quaker Josiah Wedgwood, of Wedgwood pottery.
Maria Mitchell and the Sexing of Science: An Astronomer Among the American Romantics, by Renee Berger ($29.99). This Friend discovered a comet in 1847, becoming internationally famous.
Practical Mystic: Science, Religion and A. S. Eddington, by Matthew Stanley ($37.50). A biography of the leading astrophysicist and Friend (see Adam Segal-Isaacson's article in this issue).
The Eddington Enigma, by David Stanley Evans ($16 used).
The Wetherills: Friends of Mesa Verde, by Fred Blackburn ($15.95). Quaker couple helps protect Mesa Verde cliff dwellings.
See also these resources online:
The "Quakers in Science" entry in Wikipedia.
Britain YM's website: www.quaker.org.uk/quakers-and-science.
Jocelyn Burnell's address to the recent Friends World Gathering in Kenya: saltandlight2012.org/address-jocelyn-burnell.
---
Quaker Scientists—A Partial List
Thomas Lawson (1630–1691) Botanist; first to identify a number of English plants.
James Logan (1674–1751) Natural scientist and botanist, mentor of Benjamin Franklin, who published Logan's translation of Cicero's essay "Cato Maior de Senectute".
Phillip Miller (1691–1771) Author of the Gardener's and Botanist's Dictionary.
Peter Collinson (1694–1768) Gardener and close friend of John Bartram and correspondent with Benjamin Franklin on electricity.
John Bartram (1699–1777) Early American botanist, horticulturist, and explorer, called the "greatest natural botanist in the world" by Carolus Linnaeus.
John Fothergill (1712–1780) Physician, botanist, and conchologist; first identified trigeminal neuralgia and one of the first to describe streptococcal sore throat in English.
William Curtis (1746–1799) Botanist and entomologist; published a landmark work on urban nature, Flora Londinensis; genus Curtisia is named in his honor.
William Woodville (1752–1805) Physician and botanist; wrote an important study of medical botany and wrote several books about small pox.
Caspar Wistar (1761–1818) American physician and anatomist; developed original treatments and an early promoter of vaccination; the genus Wisteria is named after him and so is the Wistar Institute in Philadelphia.
William Phillips (1775–1828) English minerologist and geologist, who had a major influence on the development of geology in Great Britain.
John Dalton (1766–1844) English chemist, meteorologist, and physicist best known as a pioneer in the development of atomic theory and his research into color blindness.
William Allen (1770–1843) British chemist and pharmacist, cofounder of The Pharmaceutical Society, later called The Royal Pharmaceutical Society.
Luke Howard (1772–1864) British manufacturing chemist and amateur meteorologist; developed our current nomenclature for clouds.
Thomas Young (1773–1829) English polymath who made scientific contributions to the fields of vision, solid mechanics, energy, physiology, language, musical harmony, and Egyptology; partly deciphered Egyptian hieroglyphics (specifi-cally the Rosetta Stone) before Jean-Françoise Champollion expanded on his work.
Lewis Weston Dillwyn (1778–1855) Published works on botany and conchology; discovered several species of the Conferva genus.
James Backhouse (1794–1969) Botanist, after whom the plant genus Backhousia is named.
George Were Fox (1789–1877) British geologist, natural philosopher, and inventor known for work on the temperature of the earth and a compass to measure magnetic dip at sea.
Charles Fox (1797–1878) British mining and foundry industry inventor, geographer, and student of philological and antiquarian studies related to biblical history. President of the Royal Geographical Society of Cornwall.
Thomas Hodgkin (1798–1866) British physician, prominent pathologist, and pioneer in preventive medicine; researched Hodgkin's disease and pioneered the application of pathology to clinical treatment.
Edward Drinker Cope (1840–1897) American paleontologist, and comparative anatomist, herpetologist, and ichthyologist.
Lewis Fry Richardson (1881–1953) English mathematician, physicist, meteorologist, and psychologist; pioneered modern mathematical techniques of weather forecasting, the study of fractals, and a method for solving linear equations known as modified Richardson iteration.
Arthur Stanley Eddington (1882–1944) British astrophysicist and popularizer of science. The Eddington limit, the natural limit to the luminosity of stars, is named in his honor. His experiments provided one of the first confirmations of Einstein's theory of relativity.
Wilson Baker (1900–2002) British organic chemist who worked on plant pigments, the chemistry of penicillin, and non-benzenoid aromatic hydrocarbons.
Dame Kathleen Lonsdale (1903–1971) Crystalographer who established the structure of benzene using X-ray diffraction in 1929 and hexachlorobenzene by Fourier spectral methods in 1931; attained a number of firsts for a female scientist.
Gilbert F. White (1911–2006) American geographer, "father of floodplain management," and "leading environmental geographer of the 20th century."
John Harlan Pickin (1917–2005) Chemical engineer who created Irish Spring soap.
Ursula Franklin (b 1921) Canadian metallurgist and research physicist, best known for writings on the political and social effects of technology.
Joseph Condon (1935–2012) Developed Belle, the first dedicated chess computer, among other achievements.
George Francis Raynor Ellis (b 1939) One of the world's leading theorists in cosmology, winner of the Templeton Prize, coauthor with Stephen Hawking of The Large Scale Structure of Space-Time.
Joseph Hooton Taylor Jr. (b 1941) American astrophysicist and Nobel Prize laureate in Physics for his discovery with Russell Alan Hulse of a new type of pulsar.
Dame (Susan) Jocelyn Bell Burnell (b 1943) British astrophysicist; discovered the first radio pulsars as a postgraduate student with her supervisor Antony Hewish, with whom she shared the Nobel Prize for Physics.
Rush Dew Holt (b 1948) The only Quaker in the US Congress; a physicist and former director of the Princeton Plasma Physics Laboratory at Princeton University, among other posts.
---
~ Other Features ~
40 Days of Prayer
October 10 – November 18, 2013
John Edminster, Fifteenth Street Meeting
On Wednesday, October 10, 2012, Friends worldwide will begin a forty-day period of prayer "for the future of Friends." This ends Sunday, November 18, with a "Day of Discernment" for those individuals, worship groups, and Friends' meetings and churches that elect to participate. These are asked on that day to formulate advice to guide Friends United Meeting (FUM) in assessing its own work, its priorities, and how it translates those priorities into action. During the prayer period, Friends are encouraged to avail themselves of a devotional guide, 40 Days of Prayer, sold by FUM for $5 (or $2.50 when ordered in quantity), and also downloadable as a free PDF file at www.fum.org.
Participants are encouraged to spend at least twenty minutes each day in solitude and prayerful silence. The devotional guide offers a query and suggests a related action step for each of the forty days. On each Saturday in the period, Friends' attention is drawn to "some particular people and projects central to the shared work and witness of FUM," and on Sundays, Fellowship Groups of four to eight Friends each are encouraged to meet to discuss the week's prayer-work and engage in a spiritual group exercise. NYYM Friends wishing prayer-support or counsel as they prepare for the Forty Days are encouraged to contact the FUM office, [email protected], or one of the Yearly Meeting's representatives, Beatrice Beguin ([email protected]), Regina Baird Haag ([email protected]), or John Edminster ([email protected]).
---
Farewell to Georgianne Jackofsky
Excerpts from an interview with Helen Garay Toppins
As we bring our typesetting in-house, Georgianne Jackofsky will be missed. The Personnel Committee asked her to share her reflections on her eighteen years at a job well done. Here are some excerpts from her interview with Helen Garay Toppins.
Are you a member of NYYM?
My family and I are members of Conscience Bay Meeting (CBM) on Long Island. My husband Rick had been run over by a school bus while riding his bike to work twenty-two years ago now. His back was broken in four places, and after his rehabilitation we decided to simplify, simplify, simplify. While reading numerous books on simplicity I kept coming across references to Quakerism. Finally, I told Rick that he needed to read these books. We were amazed that there were Quaker meetings on Long Island, but as soon as we found out we decided to attend.
How did you start working for NYYM? I had been working in the graphic arts department of a print shop for about seven years, but shortly after my oldest daughter was born I developed a pituitary tumor. I continued working, but between the long commute and my treatments I was beginning to wear down. When my daughter turned two I quit my job and began working as a freelance illustrator from home. A few years later at rise of meeting, Marjorie Weisel, also a member of CMB, informed me that NYYM was in need of a typesetter. I called the office and this led to my being hired.
When did you begin working for NYYM? I was hired by Joe Vlaskamp, the NYYM's previous general secretary, shortly before he retired. I believe that was approximately eighteen years ago. He introduced me to Helen (Garay Toppins) and asked me to help her carry the load she would be asked to bear.
What did you work on for NYYM? I worked with Helen on all NYYM publications for about five years before Paul Busby was hired. There was no internet or email back then. Helen mailed me everything and I had to type it, paste it up, and send photocopies for proofing. Final layouts were mailed on special gridded paper to the printer. I remember once getting an article for Spark handwritten on a napkin. Seriously. I typed and did layout for Faith & Practice in 1995 and the updated version a few years later, the 2000 edition of the Handbook, every issue of Spark, the Advance Reports, Yearbook, and the Summer Sessions programs over the last eighteen years. Plus an occasional brochure, flyer, or pamphlet. Besides typesetting and layout I have also served as a sometime proofreader and graphic artist. As the years have gone by, the way we dealt with NYYM publications changed drastically. Articles are sent via email now instead of scribbled on napkins and layout is done in desktop publishing programs.
I understand that you and your family have strong musical interests. What are they? As many Friends know, I am part of a family band, The Homegrown String Band, along with my husband and two daughters. Rick was a music major and after we threw our television out (when the girls were 7 and 4) he taught us all to play music in order to entertain ourselves. By the time Erica and Annalee were 12 and 9 we were on the road performing. On weekends and whenever there was a lull in NYYM work we could be found driving around the country performing what we call American roots music. We have released four CDs, been featured in several national music publications, and performed at such venues as the National Theatre in Washington DC and the Festival of American Music in Branson, Missouri. We play at festivals, theaters, and libraries, plus we're part of the BOCES Arts-in-Education program. We've been playing together as a family for close to 16 years now. Friends can read more about the family band and our performance schedule at homegrownstringband.com.
I have to give credit to Friends at Conscience Bay Meeting for some Friendly persuasion also, since Rick informed everyone that he was buying me a dulcimer as an anniversary present at rise of meeting one Sunday all those many years ago. I wasn't exactly happy, since I did not consider myself musically inclined, but Friends formed a circle around me and gave me some quiet encouragement. We dedicated our first CD to a member of CBM who has since passed away, but who came to all our local shows and really believed in what we were doing.
What type of work are you looking to do now? I'm focusing on the music, but the arts have been hit hard just like everything else. The family band continues to perform and travel, but gas prices, tolls, and budget cuts have made it increasingly difficult. Our fall is fairly busy, and we already have some bookings in 2013, so I hope that means things are looking up. Rick and I began offering a duo program recently to give venues with budget constraints another option.
Rick and I also recently collaborated on a book he wrote called Ragged but Right: The Ungentle Art of Clawhammer Banjo. I typed and did the layout for him. We work well in the design area. We've done the artwork and layout for CDs, DVDs, fine art catalogues, and Web sites, among other things. I do all my work in InDesign, while he does his photographic magic. So, in addition to our music, we're pursuing freelance design work together.
What are your future plans? Besides music and designing/desktop publishing, I have two new interests. I've begun working with copper and getting more involved in pyrography. I woodburn the designs on the Navajo spindles that Rick makes, and recently began burning designs on gourd bowls also, all of which we sell online and at craft shows. I went to college for a degree in fine arts with a concentration in advertising design. I suppose I'm getting back to my artistic roots a little more, although I would love to continue doing desktop publishing, too. I don't think there's enough time in the day to do everything I want. Friends can contact me at [email protected].
---
Around Our Yearly Meeting
Hiroshima/Nagasaki Day
Genesee Valley Citizens for Peace, an affiliate of Peace Action New York State, invited Friends in Western New York to attend their annual Candle Light Vigil on August 9, 2012. About two dozen activists attended the 38th annual vigil commemorating the bombings of Hiroshima and Nagasaki. Three Friends from Genesee Valley Preparative Meeting were among those who participated, holding signs, singing, and holding candles in the Avon traffic circle as local traffic drove by. Genesee Valley Friends and Genesee Valley Citizens for Peace have developed a very supportive relationship since the preparative meeting was established last November.
Bayard Rustin Centennial Celebration
Syracuse Meeting and NYYM Black Concerns Committee are cosponsoring a PowerPoint presentation, Q&A, and book signing on the life of Bayard Rustin by Michael Long, the editor of I Must Resist: Bayard Rustin's Life in Letters. Place: May Memorial Unitarian Universalist Church in Syracuse (also a cosponsor). Date: Saturday, September 29, at 7 pm.
Play about interned Japanese-American Quaker premieres
Hold These Truths, a one-man play inspired by the life of the first generation Japanese-American and Quaker Gordon Hirabayashi, will run from October 21 to November 18 at the Epic Theatre at the 14th Street Y, 344 E. 14th St, New York, NY (between 1st and 2nd Avenues). While agonizing over the forcible removal of all people of Japanese ancestry on the West Coast, Gordon Hirabayashi journeys toward a greater understanding of America's triumphs and a confrontation with its failures. The play was written by Jeanne Sakata and is performed by Joel de la Fuente. For tickets and more information, visit EpicTheatreEnsemble.org/HoldTheseTruths.
Crafts for the abolition of the death penalty
The Fifteenth Street Monthly Meeting Death Penalty Abolition committee is sponsoring a holiday craft fair of handmade crafts and goods and pieces of art made by Quakers of New York City, and all are welcome and encouraged to take part! This is a call for handmade goods and arty supplies! Please donate your own handmade: paintings, stationery, jewelry, hats, mittens, usable craft objects, etc. This is a good time to share your art/artiness/craftiness for a good cause! These objects will be sold in later November and throughout December for moderate prices; they can be given as delightful, handmade gifts to family and friends. The funds will go to Equal Justice USA, a national Death Penalty Abolition group based in Brooklyn. Fifteenth Street Monthly Meeting has been a partner with them in the past. If you do not have an arty bone, then perhaps you can donate any of the following (which will be decorated by the arty types): Unused glass or ceramic containers, unused plain stationery, unused new plain T-shirts of any color or size, unused plain cotton handkerchiefs. Questions? Ideas? Want to help out? Ask Carol Jackson, [email protected]!
Butternuts Quarterly Meeting Fall Retreat
Butternuts Quarterly Meeting held its Fall Retreat at Sky Lake Conference Center in Damascus, New York, on September 28 and 29. They considered "Integrity in Action: What can we learn from Bayard Rustin, who would have turned 100 this year?" They saw the award-winning film Brother Outsider, which illuminates his life and work.
Occupy Quakers Silent Vigil
Occupy Quakers held a silent vigil at the Gandhi statue at the southwest corner of Union Square in Manhattan on September 16 to honor the one year anniversary of Occupy Wall Street.
"Ecological Consciousness" at Fifteenth Street Meeting
Fifteenth Street Meeting hosted renowned NYC permaculture scholar Andrew Faust on September 20, who spoke on "Ecological Consciousness: The Metaphysics of the Human Being"—how bringing the wildness of nature back into our lives brings opportunities to heal our bodies and minds. He gave a stunning visual presentation, "Anthropogenic Earth," about the metaphysics of the human being, a journey from the start of the universe 4.5 billion years ago to the present, and how we are actualizing human potential to heal Earth and each other.
Burundian Quaker peacemaker speaks at Montclair Monthly Meeting
On June 15 Adrien Niyongabo, a Burundian Quaker Peacemaker, spoke at Montclair Monthly Meeting (MMM) about his and others' work making peace and healing the wounds of conflict in his country and neighboring Rwanda. Adrien talked about the healing workshops for Rwandan and Burundian Hutus and Tutsis sponsored by the African Great Lakes Initiative. Adrien continues to lead trauma healing, peace-building workshops, now called Healing and Rebuilding Our Communities (HROC). He gave two examples of their effectiveness.
One Tutsi man told a Hutu man in the group that he had shot at him from behind a tree. "I tried to kill you and I am very sorry. Can you forgive me?" The Hutu man said he could and they became very close friends.
After sitting quietly for the three-day workshop, another man said, "Thank you for letting me be quiet. This has been very helpful for me." He had survived the slaughter of 19 members of his family because the killers thought he was dead. After the workshop the man approached the leader of the massacre and asked him to be his brother.
HROC also runs a goat project in which American donors pay $40 for a goat, which is shared by a Hutu and a Tutsi woman until the goat has a kid. HROC also arranges for killers to help install water purification mini-plants.
More information is available at aglifpt.org and checks can be made to AGLI/Burundi and sent to African Great Lakes Initiative, 1001 Park Avenue, St. Louis, MO 63104.
Gay Pride Parade
Every year, since the event's inception, New York City Quakers have marched in the annual Pride Parade. This represents our position that there is that of God in every person, regardless of sexual orientation or gender identity or expression. This year marked the 43rd anniversary of the Stonewall riots that began the modern gay civil rights movement. With last year's passage into law of marriage equality in New York, there may be less to fight for than in the past, but every bit as much to celebrate for those of us who stand with Equality. To that end, New York Friends decorated the car that they were allowed to bring with the slogan, "Equality in Faith and Practice." The logistics of getting to the parade, and through security, and lining ​up in advance to the satisfaction of the organizers can be quite an ordeal, and makes for a long day, but around 15 hardy Quaker souls turned out this year. In compensation, they had a joyous walk down Manhattan's Fifth Avenue to waving and cheering throngs.
Chatham-Summit hosts Quaker Youth Pilgrimage
Chatham-Summit Monthly Meeting hosted members of the Quaker Youth Pilgrimage at the beginning and end of their journey. Young pilgrims came from Canada, Mexico, Honduras, and across the US representing nearly every kind of Friend in the country. Participant Rick Townsend shared the following:
On Tuesday July 17, 25 youth and four adults from ten countries came together at the Woodbrooke Center in Birmingham, England, to begin a month-long journey of spiritual discovery. Part of the journey was exploring the roots of Quakerism with visits to several historical sites in 1652 Country. Our travels also took us to Brussels for a visit with the Quaker Council for European Affairs and to Harlingen, Netherlands, where we learned of early Friends' connections with the Mennonite community. Then it was on to Amsterdam, where we spent the day worshiping with Friends and being shown the city by a local Friend. Upon our return to England, we stayed at Barmoor House near Hutton-le-Hole in the North Yorkshire Moors. It was here that we had our work projects, one of which was cleaning up a Quaker burial ground. We returned to Birmingham, where we spent our last few days in retreat, attempting to process all that we had seen, heard, and shared on our pilgrimage. We are already planning our reunion at Powell House of course!
In Friendship, Rick Townsend.
---
New York Yearly Meeting Epistle 2012
Seventh Month/July 22, 2012 ~ Silver Bay, New York
To Friends Everywhere:
We were called to focus on Integrity. Many of us felt a great sense of Presence, of miracles large and small. In worship with attention to business, we repudiated the Doctrine of Discovery, which justified genocide and enslavement in Christ's name. We also approved seasoned queries and advices on earthcare witness for inclusion in Faith and Practice.
Our plenary speakers challenged us to identify the fig leaves we need to remove so that we can clothe ourselves in righteousness. They told us it would be hard. It is. During the labors of extended worship and threshing, we heard grains of truth. Through several years of extended worship, we have been building a capacity for trust that is beginning to bear the fruit of disagreement without estrangement. We can now drop the fig leaves of euphemism and abstraction that protect us from conflict and hide our pain. Although work remains, we are speaking more plainly about God, Christ, non-theism, atheism, and recorded ministry.
Those fig leaves that may once have protected us from divisive pain, now keep us from being whole. We acknowledge that when the children and teens enter worship they too often feel unwelcome. We are not whole without everyone. We wait upon, and work for, that wholeness, asking: Are we willing to bear the prophetic witness that, were it a crime, would convict us? Are we willing to bear the love that overcomes the fear and anger of a broken world?
---
Minute on the Doctrine of Discovery
In Summer Sessions 2012, New York Yearly Meeting approved the following minute repudiating the Doctrine of Discovery. The Doctrine of Discovery is a principle of international law that originated in Christian church law in the 15th century. It is a basis for non-indigenous governments' claims to legitimacy and control of indigenous lands and peoples and still has the force of law today. This is the text of that minute.
We seek to live in a just peace with our fellow human beings, both as individuals, and as peoples.
The United States has formally declared its support for the United Nations Declaration on the Rights of Indigenous Peoples of 2007. We now call on the United States Senate to enact the legislation that will make this the law of the land in the United States of America.
We repudiate the Doctrine of Discovery, which originated in the 15th century from Papal Bulls and European royal charters issued at that time. The Doctrine of Discovery mandated the seizure of lands belonging to any non-Christian peoples and encouraged the enslavement, exploitation, or eradication of those peoples. We cannot accept that the Doctrine of Discovery was ever a true authority for the forced takings of lands and the enslavement or extermination of peoples. It is reprehensible for the United States to use the Doctrine of Discovery as a legal doctrine to compel a jurisdiction over Indigenous Peoples or their lands.
We honor the inalienable rights of Indigenous Peoples to their homelands, water, spiritual practices, languages, cultural practices, and to self-government, all of which sustain life and the life of a People, and the autonomy of Indigenous Peoples. An Indigenous People has the right to make decisions and establish constructive arrangements with other nations, governments, and peoples on their own behalf.
---
NYYM Budget Saturday
October 13 – 9:30–3:00
Purchase Meetinghouse
4455 Purchase St., Purchase, NY
At Budget Saturday, we will consider the draft 2013 budget, its proposed expenses and anticipated revenues, including covenant donations. Discerning the priorities of New York Yearly Meeting as expressed in the budget, we hope to finalize the proposed 2013 budget for consideration at Fall Sessions.
Given the importance of this discernment process, it is important to hear from your meeting by the Monday preceding this meeting and to have as many people present at the Saturday meeting as possible. Please plan to send a representative from your Meeting or Worship Group if you can. The budget draft appears below.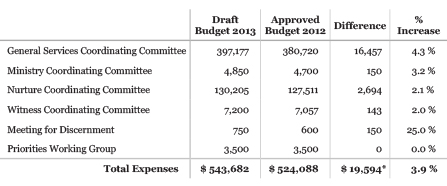 November Spark: Recognizing Gifts in Ministry
The theme of the November issue of Spark is Recognizing Gifts in Ministry. You are invited to submit articles on the theme.
There has been a groundswell of interest in ministry among Friends within New York Yearly Meeting. This has included a gathering on ministry sponsored by the Yearly Meeting's Advancement Committee in May and a Powell House conference that just convened this September. With this issue we hope to deepen this renewal.
We are hoping for articles from people who have felt led into ministry of one kind or another:
gospel or vocal ministry in your meeting;
traveling ministry of any kind;
witness ministry, or ministries of healing and other service;
pastoral ministry, including your experience as a pastor of a meeting;
your thoughts about spiritual gifts, leadings, eldership, and ministry in general, including the practice of recording gifts in ministry;
and pieces that teach aspects of the Quaker tradition of ministry;
or—you name it.
Submit articles by October 8, 2012, to the editor and to Helen Garay Toppins, office [at] nyym.org.
Notices
New Members
Jeff Bartels—Rochester
Gunilla Bradshaw—Croton Valley
Russell Bradshaw—Croton Valley
Jonathan Jacquette—Chatham-Summit
Michael LaBelle—Saratoga
Emma Lo—Rochester
Tina Post—Poplar Ridge
Valerie Reagan—Easton
David Short—Unadilla
Melinda M. Short—Unadilla
Thomas Simpson—Saratoga
Arlo Temelko-Post—Poplar Ridge
Phineas Remelko-Post—Poplar Ridge
Linden Victoria Smith—Old Chatham
Births and Adoptions
Theodore Henry Webb, on June 5, 2012, to Margaret Obermayer Webb, member of Binghamton, and Christopher Webb, member of Langley Hill (PYM)
Deaths
Rosemary Harris,member of Collins, on July 8, 2012
Elizabeth Augur Hoskins,member of Shrewsbury, on June 20, 2012
Jeremy Mott, member of Ridgewood, on September 2, 2012
Charles Piera, member of Catskill, on August 1, 2012
Lauren Pronto, member of Adirondack, on August 26, 2012
Eric Rivet, member of Rockland, on May 17, 2012
Susan Wells, member of Morningside, on June 28, 2012
---