Young Adult Spiritual Nurture Series - What do Young Adults Need?
Saturday, July 20, 2019 - 2:00pm

to

Sunday, July 21, 2019 - 2:00pm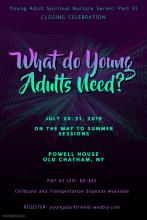 Residential Closing Celebration: What do Young Adults Need?
Date: July 20-21 (Before Summer Sessions—car pool/caravan to Silver Bay to follow)
Location: Powell House, Old Chatham, NY
 
​The grand finale! As we consider the year together and our experiences as Friends, join us to discuss what Young Adults need to be full participants in Quaker communities and what it will take to meet these needs. Help us draft an epistle that captures our experiences over the year that we can bring with us to Summer Sessions. Then join us in a joyful caravan to Summer Sessions! Attendance at Summer Sessions is not required but encouraged, especially because...
Did you know that for the first time NYYM Summer Sessions will be pay-as-led? Our hope is that this change will allow more young adults to come and participate in and with the Beloved Community. Intentional spaces will be created for YAFs to continue in the community built over the year with special meals and events. We will publicize registration when it becomes available. But for now, put it on your calendars! 
 
​Register here.
For details about the this, and other events in the Young Adult Spiritual Nurture Series, visit https://youngadultfriends.weebly.com/