Fall Sessions 2015: Teen Program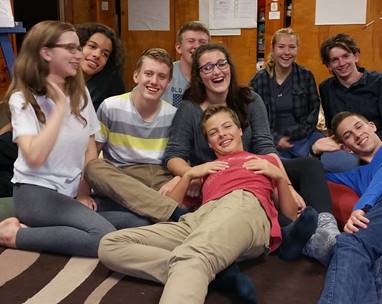 Recent 2015 Powell House Youth Conference
Fall Sessions 2015 — Teen Program
Please join us at the 2015 NYYM Fall Sessions!
Late registration deadline: Monday, October 26
We have an exciting and spirit-filled Teen Program planned for this year's Fall Sessions!
    For teens to participate, parents, legal guardians, or adult sponsors must accompany them to Fall Sessions, and if staying over they must room with or near their child(ren). If you are interested in attending please contact Helen Garay Toppins (212-673-5750) for registration forms, the medical consent form, and the field trip permission slip.
Here is our tentative schedule:

When


Where & What


Friday


Powell House

7:30 pm
Meeting each other and making soup.


Saturday


Doane Stuart School

10:30 am – 1:00 pm
Service project! Make and serve lunch for tenants of Saint Joseph's House, a shelter for the chronically homeless living with disabilities. The shelter is in nearby Troy, NY.
1:30 pm
Return to Doane Stuart School; free time.
3:00 – 5:30
Addressing the Roots of Poverty and Inequality - Creating Lasting Social Change.
5:45
Dinner with the wider group.
8:00
Move! (TBA)


Sunday

 


Powell House

 

10:15 – 12:15
Wrap-up session.
Please spread the word quickly!
. . . and let's create a fabulous Youth Program together.
This item was presented at